I want to highlight some of the books I purchased for our collection last year that have really enriched the resources we have for our curious kids.  I haven't included straight informational texts in this list. Some of these may have been published before 2014.
Click on the book cover image to see the full bibliographic details in Goodreads.
"Why We Live Where We Live looks back in history at the transition from nomadic hunting to farming and the rise of cities following the Industrial Revolution. It also looks ahead to anticipate future concerns: how will climate change and rising water affect people who live near the ocean? Can humans survive in space? This comprehensive, cross-curricular resource will equip readers with a solid background on human habitation and context about their place on the planet". Publisher: Owl Kids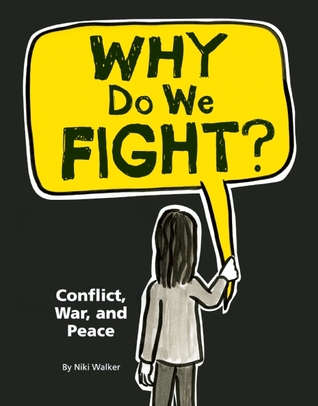 "It's a big world out there, but what's going on around the world can feel closer to us and more accessible than ever. Twenty-four hour news, the Internet and our increasing global perspective are more and more a part of our daily lives. Information about wars and conflicts on the other side of the world can be in our homes and on our tablet s and smartphones instantly. Whether or not your country is directly involved in a conflict or war, nearly every disagreement, every standoff, every war affects our lives in some way. With so many conflicts happening around the world, it makes you wonder – Why Do We Fight?" Publisher: Franklin Watts
"Why Do We Fight? is a book that allows kids to understand that while conflict may be inevitable, war isn't. The reader is shown how small disagreements can escalate to become bigger and more serious ones, by exposing the common elements of conflict: such as prejudice, history, diplomacy, geography and economics. The reader is encouraged to compare world conflicts with the ones in their own lives, to better understand why we fight and what we can do to avoid it." Goodreads
"From the start, I wanted this book to explore global conflicts—the root causes of why they happen, why they become violent—without telling kids what to think about them.I wanted the book to show kids how to think about them, so they could form their own informed opinions, and I wanted this knowledge to be applicable to any conflict, anytime, anywhere.I wanted to make kids aware that, although conflicts are often presented in oversimplified terms of good vs. bad, right vs. wrong, or as being sparked by a single event or disagreement, they're more complicated than that. I also wanted them to be unsatisfied with anything that presents conflicts in such simple terms so that they would want to dig deeper". Author (Teacher Notes)
NB: My copy was published by Owl Kids but there was another edition published by Franklin Watts in Sept 2014. Franklin Watts – paperback edition due out June 2015.
This is the third title from Molly Bang & Penny Chisholm in their wonderful series about sunlight – I also recommend Living sunlight : how plants bring the earth to life and Ocean sunlight : how tiny plants feed the seas. See also this great resource @ the Classroom Bookshelf
"This exciting children's book details the real-life stories of scientists throughout history who made discoveries that changed the way we think about the world. Read about Galileo and Marie Curie, who both – in very different circumstances – risked peril during their research, or about Alexander Fleming, who discovered the power of penicillin by accident. 
Packed with fascinating details of experiments and equipment, blunders and lucky escapes, Eureka! will appeal to children around the age of nine and over with an interest in history, science and adventure". Publisher: Thames and Hudson
"Some things are so huge or so old that it's hard to wrap your mind around them. But what if we took these big, hard-to-imagine objects and events and compared them to things we can see, feel and touch? Instantly, we'd see our world in a whole new way." So begins this endlessly intriguing guide to better understanding all those really big ideas and numbers children come across on a regular basis. Author David J. Smith has found clever devices to scale down everything from time lines (the history of Earth compressed into one year), to quantities (all the wealth in the world divided into one hundred coins), to size differences (the planets shown as different types of balls). Accompanying each description is a kid-friendly drawing by illustrator Steve Adams that visually reinforces the concept". Publisher: Kids Can Press
There are many titles coming out in this series and they are all excellent.
"This illustrated collection of traditional tales from cultures around the world stars heroes and giants, gods and goddesses, monsters and magic, and more.
The bite-sized retellings are accompanied by quick-fire story ashes, mini myths facts, and fun 'quests' to complete.
A perfectly enchanting introduction to mythology for lively minds."
Publisher: Ivy Press
I read about this gorgeous book in this article in the Guardian.
"There are 150 rhymes in this collection, from countries all over the English-speaking world, including Great Britain, USA, Canada, Australia, New Zealand, Ghana, South Africa and the Caribbean. This comprehensive collection contains all the best-loved nursery rhymes, but also some new discoveries, and vibrant rhymes from Native American, First Nation, Inuit and Maori cultures. Each double-page spread is illustrated by a different artist, who has donated his or her work to the Collection or Archive at Seven Stories, Britain's National Centre for Children's Books. With 76 featured artists, this is a star-studded roll call of international award-winners and world-class bestselling illustrators, as well as young emerging talent from England, Scotland, Wales, Ireland, USA, Canada, Australia, New Zealand, Jamaica, Ghana and South Africa."  Publisher: Frances Lincoln
"Charles Darwin first visited the Galápagos Islands almost 200 years ago, only to discover a land filled with plants and animals that could not be found anywhere else on earth. How did they come to inhabit the island? How long will they remain?
Thoroughly researched and filled with intricate and beautiful paintings, this extraordinary book by Award-winning author and artist Jason Chin is an epic saga of the life of an island—born of fire, rising to greatness, its decline, and finally the emergence of life on new islands". Author website
"What is a black hole? Where do they come from? How were they discovered? Can we visit one? Carolyn Cinami DeCristofano takes readers on a ride through the galaxies (ours, and others), answering these questions and many more about the phenomenon known as a black hole.
In lively and often humorous text, the book starts off with a thorough explanation of gravity and the role it plays in the formation of black holes. Paintings by Michael Carroll, coupled with real telescopic images, help readers visualize the facts and ideas presented in the text, such as how light bends, and what a supernova looks like.
A Black Hole Is NOT a Hole is an excellent introduction to an extremely complex scientific concept. Back matter includes a timeline which sums up important findings discussed throughout, while the glossary and index provide a quick point of reference for readers. Children and adults alike will learn a ton of spacey facts in this far-out book that's sure to excite even the youngest of astrophiles." Publisher website
"Volcanoes are a scary, catastrophic phenomenon that creates mass destruction as far as its deadly lava can reach, right? Not quite . . .
Elizabeth Rusch explores volcanoes in their entirety, explaining how they're not all as bad as they're made out to be. Using examples of real volcanoes from around the world, Rusch explains how some volcanoes create new land, mountains, and islands where none existed before, and how the ash helps farmers fertilize their fields. Simple, straight-forward prose provides readers with the basics, while a secondary layer of text delves deeper into the science of volcanoes. Susan Swan's bright and explosive mixed-media illustrations perfectly complement the subject matter—they depict volcanoes in all their destructive and creative glory.
Complete with a glossary and list of further resources, Volcano Rising is a unique look at a fierce, yet valuable, scientific process". Source: Publisher.
"Before Jacques Cousteau became an internationally known oceanographer and champion of the seas, he was a curious little boy. In this lovely biography poetic text and gorgeous paintings combine to create a portrait of Jacques Cousteau that is as magical as it is inspiring." Source: Author website.
Now this is what I call 'High-interest non-fiction'! After reading this book I went and reweeded my dinosaur section very vigorously!
"No human being has ever seen a triceratops or velociraptor or even the mighty Tyrannosaurus rex. They left behind only their impressive bones. So how can scientists know what color dinosaurs were? Or if their flesh was scaly or feathered? Could that fierce T. rex have been born with spots?
In a first for young readers, Thimmesh introduces the incredible talents of the paleoartist, whose work reanimates gone-but-never-forgotten dinosaurs in giant full-color paintings that are as strikingly beautiful as they aim to be scientifically accurate, down to the smallest detail. Follow a paleoartist through the scientific process of ascertaining the appearance of various dinosaurs from millions of years ago to learn how science, art, and imagination combine to bring us face-to-face with the past." author website

What Makes You You? is a mind-blowing introduction to the building blocks of life, DNA, what it is, how it works, and what we can do with it. Breaking down complex scientific concepts and processes into digestible bite-sized chunks; Gill Arbuthnott seamlessly explains everything from the basics of evolution to the incredible achievements of modern day genetic research in an accessible, insightful and brilliantly interesting way.
Packed with amazing 3D style illustrations and explanatory diagrams that jump off the page as well as amazing tales of scientific discoveries and what's in store for the future, Gill truly brings science to life.  Publisher
This exciting non-fiction picture book introduces young readers to the wondrous (and invisible) world of microbes.
There are living things so tiny millions could fit on a dot. Although they are invisible, they are everywhere and they multiply very quickly. They are vital for life on earth, and do all sorts of things – from giving us a cold and making yoghurt to wearing down mountains and helping to make the air we breathe. With charming illustrations by Emily Sutton, this friendly, clever book succeeds in conveying the complex science of micro-organisms simply and clearly, and opens up an exciting new avenue for young non-fiction. Publisher
"With humour and flair, Michael Hearst introduces the reader to a wealth of extraordinary life-forms. Which animal can be found at the top of Mount Everest, 10,000 feet under the sea, and in your backyard? Which animal poops cubes? Which animal can disguise itself as a giant crab? These fascinating facts and hundreds more await curious minds, amateur zoologists, and anyone who has ever laughed at a funny-looking animal". Publisher
I think Ed Sheeran could sing the phone book and still sound amazing – in the same way, ANY BOOK Steve Jenkins writes and or illustrates is an essential purchase for a school library!
"With friendly facts, funny pictures, and animals galore,What's New? The Zoo! is history to roar for!
For nearly five thousand years, human beings have kept, studied, and learned from animals. Now, award-winning author Kathleen Krull and acclaimed illustrator Marcellus Hall take readers on a vibrant global tour of zoos and zoo history, from the menageries of kings and queens in the ancient world, to the first public zoos in the Victorian age, to the modern facilities that work to save the lives of creatures great and small.
With smart science, appealing history, fascinating animals, and a whole lot of fun, only one thing could be better — a trip to the zoo itself! "Publisher
What did I say before about Steve Jenkins?
"In his latest eye-popping work of picture book nonfiction, the Caldecott Honor–winning author-illustrator Steve Jenkins explains how for most animals, eyes are the most important source of information about the world in a biological sense. The simplest eyes—clusters of light-sensitive cells—appeared more than one billion years ago, and provided a big survival advantage to the first creatures that had them. Since then, animals have evolved an amazing variety of eyes, along with often surprising ways to use them." Publisher
and again…Animals upside down was a huge hit as a readloud for my Year One students inquiring into animals "It's their world too".
"What do spiders, bats, ducks, and sloths have in common?
Along with many other creatures, they turn upside down. A few of them, in fact, spend most of their lives this way. But animals don't go bottoms-up just for fun.
In this unique pop-up book, pull tabs, lift-the-flaps, sliding doors, and other interactive elements reveal how, for many animals, an occasional flip or dip is a matter of survival". Author website
If you want beautiful, thought provoking, creativity inspiring art books for your school library check out Prestel – they have some wonderful books!
"Painting is to dream," said Hundertwasser. "When the dream is over, I don"t remember anything I dreamed about. The painting, however, remains. It is the harvest of my dream." This statement is at the heart of this engaging introduction to the work of the eccentric artist, humanitarian, environmentalist, and architect who dedicated his life to the beautification of the world we live in. Dozens of activities in this book will captivate children of all ages and take them on a journey through a magical world of creativity and self-fulfillment. The projects here help young readers discover nature"s gifts, encourage exploration of what lies outside one"s doorstep, and emphasize the importance of ecological harmony as vital to living a happier life. Children and their parents will return again and again to this colorful and entertaining tribute to an artist whose legacy offers hope and inspiration for all of us." Publisher
Literally a bird's eye view….
"A perfect introduction for children 7+ to the most beautiful buildings in the world and the basic principles of architecture using a fun, lively and engaging way of learning". Publisher
"A highly readable book about architecture, lavishly illustrated with sixteen intricate cross sections.
From straw huts to skyscrapers, palaces to arts centres, The Story of Buildings takes us on a journey across continents and over centuries. Patrick Dillon selects sixteen of the most iconic buildings from around the world including the Parthenon, Notre Dame Cathedral, the Taj Mahal, the Forbidden City, the Bauhaus, Crystal Palace, the Sydney Opera House and the Pompidou Centre, and tells the remarkable human story behind each of them. Stephen Biesty's detailed, intricate cross-sections allow us to see inside these incredible structures and appreciate the inspiration of their creators. Technical information and architectural terms are explained in labels and flaps and there is an extensive index and timeline at the end of the book". Publisher
"Filled with colorful architectural drawings and engaging texts, this history of architecture for children is a great way to introduce young readers to the subject.
Children will be utterly absorbed by this journey through the history of architecture, from the earliest mud huts to today's soaring towers. Chronologically arranged, this large-format book gives each iconic building its own double-page spread featuring an exquisite watercolor illustration and clearly written descriptions, facts, and features. These vibrantly detailed pages are filled with people, animals, and other objects that help bring the buildings to life. A detailed appendix includes a timeline, a world map that points out where each building can be found, and an extensive glossary. Children will enjoy poring over this book — and will come away with a fundamental understanding of not only the most common architectural terms, but also of how the built world has evolved marvelously over time". Publisher
"Taking over a rowdy gym class right before winter vacation is not something James Naismith wants to do at all. The last two teachers of this class quit in frustration. The students — a bunch of energetic young men–are bored with all the regular games and activities. Naismith needs something new, exciting, and fast to keep the class happy or someone's going to get hurt. Saving this class is going to take a genius. Discover the true story of how Naismith invented basketball in 1891 at a school in Springfield, Massachusetts". Author website
"A celebration of the world, from its immense mountains to its tiny insects – and everything in between. Features fifty-two highly illustrated maps, full of detail and curiosities". Publisher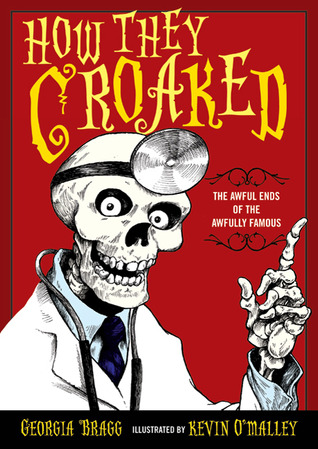 "Over the course of history men and women have lived and died. In fact, getting sick and dying can be a big, ugly mess-especially before the modern medical care that we all enjoy today. How They Croaked relays all the gory details of how nineteen world figures gave up the ghost. For example:
It is believed that Henry VIII's remains exploded within his coffin while lying in state.
Doctors "treated" George Washington by draining almost 80 ounces of blood before he finally kicked the bucket.
Right before Beethoven wrote his last notes, doctors drilled a hole in his stomach without any pain medication.
Readers will be interested well past the final curtain, and feel lucky to live in a world with painkillers, X-rays, soap, and 911". Author website
 Another fabulous title from Thames and Hudson – the chapter on Scott and Amundsen is especially useful to our inquiry units. These books have a highly visual, scrapbook style layout. Highly recommended!
"Describes the intrepid journeys and discoveries of famous trailblazers from Christopher Columbus to Ranulph Fiennes. Packed with tales of heroism and useful survival tips, as well as photographs and illustrations of their brave expeditions."
"Think of the street you live on. Now think of how it may have looked in 10,000 BCE, or in Roman times, or in Victorian England at the height of the Industrial Revolution. Steve Noon's A Street Through Time takes you on a time travelling journey that you won't forget.
Beautiful double-page illustrations bring fourteen key periods in history to life. You will see magnificent buildings go up and come down, new churches built on the site of ancient temples, wooden bridges destroyed and then remade in stone, and statues demolished then unearthed many years later. You'll find out how people lived long ago – the tools they used, what they wore, what they ate and what they did all day. In an added twist, you can search for the time traveller in each period and locate the objects that have managed to survive through the ages.
Revised and updated for a new generation, Steve Noon's A Street Through Time is perfect for parents and children to look at together. The more you look, the more you'll see." Publisher
I hope you find something here that you would like to add to your collection!