To make it easier – I have bundled this post into my part 1 list – giving you the whole list in one place…hit this link to go there 🙂
My favourite books from 2014…continued.
Children's fiction MG Middle Grade
365 days of Wonder:  Mr. Browne's book of precepts by R.J. Palacio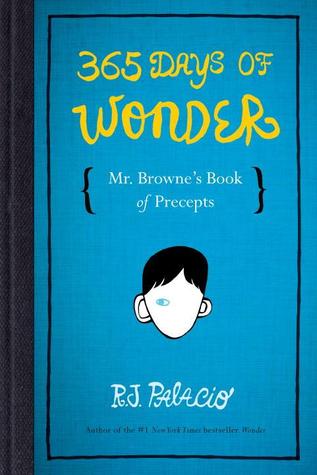 If you loved Wonder then you need to continue the goodness with this little gem of a book.  I was  delighted that so many caring boys in our school community wanted to read this as much as our girls. Adding this to our collection led to new conversations and fueled a resurgence in demand for the original book and others about empathy and bullying.
"In the bestselling novel Wonder, readers were introduced to memorable English teacher Mr. Browne and his love of precepts. Simply put, precepts are principles to live by, and Mr. Browne has compiled 365 of them—one for each day of the year—drawn from popular songs to children's books to inscriptions on Egyptian tombstones to fortune cookies. His selections celebrate kindness, hopefulness, the goodness of human beings, the strength of people's hearts, and the power of people's wills. Interspersed with the precepts are letters and emails from characters who appeared in Wonder. Readers hear from Summer, Jack, Charlotte, Julian, and Amos." [Goodreads]
The girl who walked on air by Emma Carroll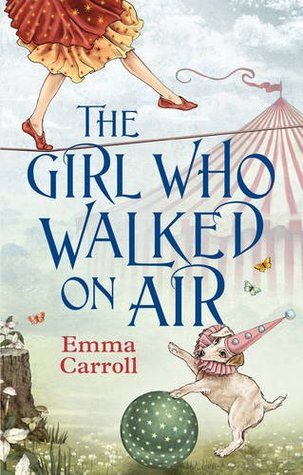 I loved Emma Carroll's earlier book Frost Hollow Hall which I had given 5 stars in 2013 (it is a wonderful historical ghost story and kids love it too!) I was just as delighted with this – the plot felt fresh and new. Give this to fans of Jacqueline Wilson's Hetty Feather trilogy.
"Abandoned as a baby at Chipchase's Travelling Circus, Louie dreams of becoming a 'Showstopper'. Yet Mr Chipchase only ever lets her sell tickets. No Death-Defying Stunts for her. So in secret, Louie practises her act- the tightrope- and dreams of being the Girl Who Walked on Air. All she needs is to be given the chance to shine.
One night a terrible accident occurs. Now the circus needs Louie's help, and with rival show Wellbeloved's stealing their crowds, Mr Chipchase needs a Showstopper- fast.
Against his better judgement, he lets Louie perform. She is a sensation and gets an offer from the sinister Mr Wellbeloved himself to perform in America. But nothing is quite as it seems and soon Louie's bravery is tested not just on the highwire but in confronting her past and the shady characters in the world of the circus . . ." [Goodreads]
Greenglass house by Kate Milford
A fantasy mystery story that also touches on issues of family, identity and belonging.
 "A rambling old inn, a strange map, an attic packed with treasures, squabbling guests, theft, friendship, and an unusual haunting mark this smart middle grade mystery in the tradition of the Mysterious Benedict Society books and Blue Balliet's Chasing Vermeer series." [Goodreads]
The Boundless by Kenneth Oppel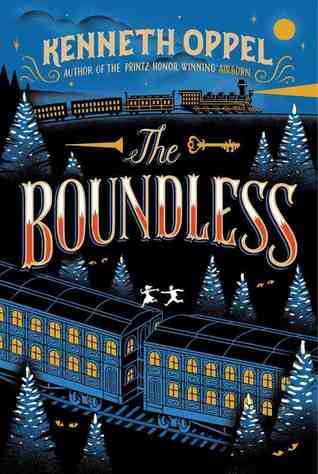 Action and adventure and trains and a very tight suspenseful plot. I'm going to have to work a little harder at promoting this one – I had only bought the eBook and kids haven't discovered it as much as I would have liked. This deserves to be in both formats in our Library.
"The Boundless, the greatest train ever built, is on its maiden voyage across the country, and first-class passenger Will Everett is about to embark on the adventure of his life!
When Will ends up in possession of the key to a train car containing priceless treasures, he becomes the target of sinister figures from his past.
In order to survive, Will must join a traveling circus, enlisting the aid of Mr. Dorian, the ringmaster and leader of the troupe, and Maren, a girl his age who is an expert escape artist. With villains fast on their heels, can Will and Maren reach Will's father and save The Boundless before someone winds up dead?" [Goodreads]
Counting by 7s by Holly Goldberg Sloan
This is up there with Out of my mind and Wonder as another great book to show kids the true meaning of empathy.  You will feel the full gamut of emotions reading this book, but it is worth every crumpled tissue!
The eighth day by Dianne K. Salerni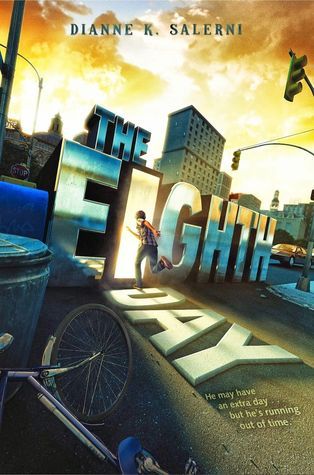 I thought this was fantastic – in the tradition of Percy Jackson and Sarwat Chadda's Ash Mistry series while at the same time feeling like a fresh and new story. I was hooked.
"In this riveting fantasy adventure, thirteen-year-old Jax Aubrey discovers a secret eighth day with roots tracing back to Arthurian legend. Fans of Percy Jackson will devour this first book in a new series that combines exciting magic and pulse-pounding suspense.
When Jax wakes up to a world without any people in it, he assumes it's the zombie apocalypse. But when he runs into his eighteen-year-old guardian, Riley Pendare, he learns that he's really in the eighth day—an extra day sandwiched between Wednesday and Thursday. Some people—like Jax and Riley—are Transitioners, able to live in all eight days, while others, including Evangeline, the elusive teenage girl who's been hiding in the house next door, exist only on this special day." [Goodreads]
I hope you have found something new there from a rather eclectic range of books spread over two posts.
See my previous post (Part 1) here