My favourite graphic novels read in 2014
Jane, the fox and me by Fanny Britt, illustrated by Isabelle Arsenault

Hauntingly beautiful, this book is incredibly moving. It covers bullying and cruelty and is recommended for ages 10+. After buying it for my junior end of our library, I eventually moved it into the Middle/Senior graphic novels where I thought it would be more appreciated.
"An emotionally truthful and visually stunning graphic novel about solace and redemption."
"Helene is not free to hide from the taunts of her former friends in the corridors at school. She can't be invisible in the playground or in the stairways leading to art class. Insults are even scribbled on the walls of the toilet cubicles. Helene smells, Helene's fat, Helene has no friends … now. When Helene's heart hammers in her chest as Genevieve snickers at the back of the bus, inventing nasty things to say about her, Helene dives into the pages of her book Jane Eyre by Charlotte Bronte. And, in the solace she finds there, Helene's own world becomes a little brighter. But how will the story end? Is there any hope for the wise, strange, plain Jane Eyre? How could Mr Rochester ever love her? On nature camp, arranged by the school as a treat, Helene finds herself in the tent of other outcasts. Again, her inner and outer worlds become entangled as she reads on – this time putting herself into Jane Eyre's shoes. It would be impossible for Mr Rochester to marry a sausage in a swimsuit, even if he loved her. Wouldn't it? But, while deeply lost in self-doubt, Helene's world is unexpectedly shaken up by a fresh new friendship. Geraldine snorts with laughter at her jokes! They love being together! Helene begins to worry less about what the cruel girls think – and more about how happy she can be (and make others)… Perhaps Jane Eyre's story will end well after all, too." Source: Publisher website
"Jane, The Fox and Me is an absolute treasure that blends the realities of children's capacity to be cruel, the possibilities of transcending our own psychological traps, and literature's power to nourish, comfort, and transform." Brain Pickings
El Deafo by Cece Bell
Really heartwarming and delightful to see just as many boys as girls request this after a book talk!
"Going to school and making new friends can be tough. But going to school and making new friends while wearing a bulky hearing aid strapped to your chest? That requires superpowers! In this funny, poignant graphic novel memoir, author/illustrator Cece Bell chronicles her hearing loss at a young age and her subsequent experiences with the Phonic Ear, a very powerful—and very awkward—hearing aid. The Phonic Ear gives Cece the ability to hear—sometimes things she shouldn't—but also isolates her from her classmates. She really just wants to fit in and find a true friend, someone who appreciates her as she is. After some trouble, she is finally able to harness the power of the Phonic Ear and become "El Deafo, Listener for All." And more importantly, declare a place for herself in the world and find the friend she's longed for." Publisher.
PRAISE FOR EL DEAFO
"A standout autobiography. Someone readers will enjoy getting to know." —Publishers Weekly, starred review "Worthy of a superhero." —Kirkus Reviews, starred review
"This empowering autobiographical story belongs right next to Raina Telgemeier's Smile(2011) and Liz Prince's Tomboy." —Booklist
[Source: Publisher Abrams]
Treaties, trenches, mud and blood (Nathan Hale's Hazardous Tales book 4) by Nathan Hale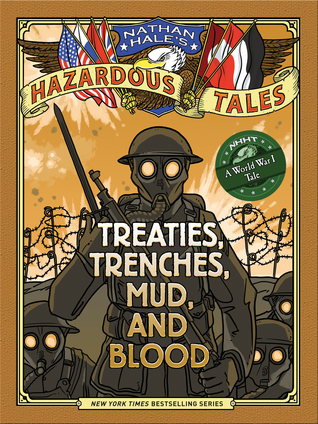 If you haven't discovered the Hazardous Tales series then I urge you to seek it out. The boys (and some girls) in our school from years 5-8 love all of them. I think these days kiwi kids may know a lot about American popular culture, but less about American history so these do bring events like the American Revolution and civil war to life. Each book in the series focuses on a specific historical incident or period. One of the things that I love about these books is that they are published as sturdy hardbacks – they stand up to the punishment that this collection gets from enthusiastic readers. The cover art is eyecatching too!
"World War I set the tone for the 20th century and introduced a new type of warfare: global, mechanical, and brutal. Nathan Hale has gathered some of the most fascinating true-life tales from the war and given them his inimitable Hazardous Tales twist. Easy to understand, informative, and lively, this series is the best way to be introduced to some of the most well-known battles (and little-known secrets) of the infamous war." Publisher.
"Students bored to death by textbook descriptions of WWI battle maneuvers should be engaged by this entertaining, educational glimpse at world history." —Booklist
"A mixture of textbook and slapstick, this essential read makes history come alive in a way that is relevant to modern-day life and kids." —School Library Journal
[Source: Publisher – Abrams]
Sisters by Raina Telgemeier
"Raina uses her signature humor and charm in both present-day narrative and perfectly placed flashbacks to tell the story of her relationship with her sister, which unfolds during the course of a road trip from their home in San Francisco to a family reunion in Colorado." Goodreads.
Raina Telgemeier's earlier graphic novels (Smile and Drama) are very rarely on our Graphic Novel shelf – they're just too popular, but after telling kids about Sisters there was renewed and increased interest in reading those earlier titles too.
Nursery rhyme comics edited by Chris Duffy
"Here's how this book works. ..We asked fifty cartoonists we really like to each transform a classic nursery rhyme into a comic. It turns out when you have a rhyme like 'Jack & Jill' (Jack and Jill went up the hill / to fetch a pail of water / Jack fell down and broke his crown / and Jill came tumbling after), there's a reasonable narrative panel structure there. So turning nursery rhymes into comics makes sense logically — and it also makes the separate actions of the narrative easily understandable for young readers". Publisher
Fairy tale comics edited by Chris Duffy
"From favorites like "Puss in Boots" and "Goldilocks" to obscure gems like "The Boy Who Drew Cats," Fairy Tale Comics has something to offer every reader. Seventeen fairy tales are wonderfully adapted and illustrated in comics format by seventeen different cartoonists, including Raina Telgemeier, Brett Helquist, Cherise Harper, and more." Goodreads See publisher info here too with great examples of the pages and story behind the publication.
Comic Squads : Recess! Edited by Jennifer Holm and Matthew Holm. and Jarett J. Krosoczka With contributions by Dav Pilkey; Dan Santat; Raina Telgemeier; Dave Roman; Ursula Vernon; Eric Wight; Gene Yang.
"Wowza! Calling all kidz! Do you like comics? Do you like laughing till milk comes out of your nose?! Look no further—do we have the book for you! All your favorite comic creators are right here in this handy-dandy hilarious book! This all-star tribute to classic Sunday comics includes eight sidesplitting, action-packed stories about every kid's favorite subject—RECESS! With popular characters from Babymouse and Lunch Lady and brand-new soon-to-be favorite characters from superstars including Dav Pilkey! Raina Telgemeier! Gene Yang! and many more! Comics Squad also features Pizza Monsters! Secret ninja clubs! Aliens! Talking desserts! Dinozilla! Death-defying escapes! Bad guys! Good guys! Medium guys! Superheroes! Bullies! Mean girls! Epic battles! True love! Outlandish schemes! Evil plans! Fun! Jokes! Terrible puns! And other surprises that will tickle your funny bone! WARNING: THIS BOOK MAY CAUSE EXCESSIVE LAUGHTER AND POSSIBLE SILLINESS. No assembly required. (Pizzatron 2000 not included.)" Publisher website
Perfect for all the kids who can't get enough of  Squish, Babymouse, Lunch Lady and Captain Underpants!
Battle bunny! by Jon Scieszka and Mac Barnett
Ok this next one isn't strictly a graphic novel but after much procrastination and consultation with students this is where we decided to shelve it (and I see from checking just now that Auckland Libraries have done the same thing).
This is one of those books where after a book talk EVERY kid wants to read it! The two copies we own have never been shelved…and we still have holds stretching into 2015. We need more copies 🙂
"Alex has been given a saccharine, sappy, silly-sweet picture book about Birthday Bunny that his grandma found at a garage sale. Alex isn't interested – until he decides to make the book something he'd actually like to read. So he takes out his pencil, sharpens his creativity, and totally transforms the story! Birthday Bunny becomes Battle Bunny, and the rabbit's innocent journey through the forest morphs into a super-secret mission to unleash an evil plan – a plan that only Alex can stop. Featuring layered, original artwork that emphasizes Alex's additions, this dynamic exploration of creative storytelling is sure to engage and inspire." Goodreads.
Great to use as a provocative writing prompt! See the battle bunny website for activities and ideas (including downloadable Birthday Bunny original for kids to hack).
In addition to the popular favourites borrowed for recreational reading, we have successfully used non-fiction graphic novels to explain scientific concepts for differentiated learners within several units of inquiry. I can see that this is an area we need to strengthen to meet to help meet the needs of all learners across the curriculum.
I recently moved the display area for our graphics collection so that they are close to our issue/checkout desk. Students waiting to have their books issued just need to glance to the left and can see five face-out shelves of covers. This has been as effective as placing confectionary in the checkout aisle of a supermarket – this is very valuable real estate! There is so much work to do here – I need to replace tired and worn out copies, fill series, add new titles, label the shelves and series boxes and generally revamp.
Graphic novels are extremely popular in our Library and I wish I had a lottery-win-sized budget to apply to this area of my collection. Students love them and because of this it is well worth putting budget, time and love into this area.
Happy reading!