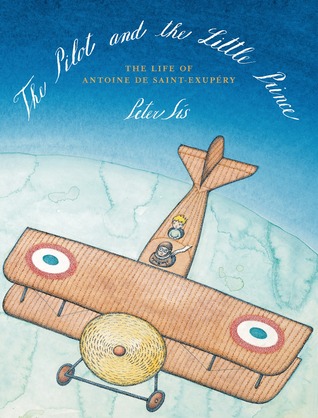 "Antoine de Saint-Exupéry was born in France in 1900, when airplanes were just being invented. Antoine dreamed of flying and grew up to be a pilot—and that was when his adventures began. He found a job delivering mail by plane, which had never been done before. He and his fellow pilots traveled to faraway places and discovered new ways of getting from one place to the next. Antoine flew over mountains and deserts. He battled winds and storms. He tried to break aviation records, and sometimes he even crashed. From his plane, Antoine looked down on the earth and was inspired to write about his life and his pilot-hero friends in memoirs and in fiction. Peter Sís's remarkable biography celebrates the author of The Little Prince, one of the most beloved books in the world. A Frances Foster Book" Publisher
This is one of the most beautiful sophisticated picture books I have seen. This is a book that will appeal to as many adults as children and the text and illustrations work very well to support different types of reading. There is a basic narrative story running along the bottom of the pages which tells the reader about the life of Antoine de Saint Exupery, in a simple style comprehensible to most children; then this is combined or layered with exquisitely detailed and sometimes fanciful illustrations. Lastly, there is very detailed text and captioning around the illustrations. Children who enjoy investigating small details, will love poring through this story and discovering exciting facts and ideas.
This is an inspirational biographical picture book which talks about having dreams and acting on them; suffering setbacks and disappointments but not giving up; about getting up and trying again.
See also:
Brainpickings.org (beautiful reproductions of pages from the book)
The Guardian (more wonderful illustrations and back story bout the authors interest in the subject)
Publisher page (inside sketches, teacher resources and more)
Bibliographic details:
The pilot and the little prince: the life of Antoine de Saint-Exupery / Written and illustrated by Peter Sis.
Published by Francis Foster an imprint or Farrar Strauss Giroux, 2014
39 pages
ISBN:9780374380694
NZ RRP $37.50
I borrowed this copy from Auckland Libraries