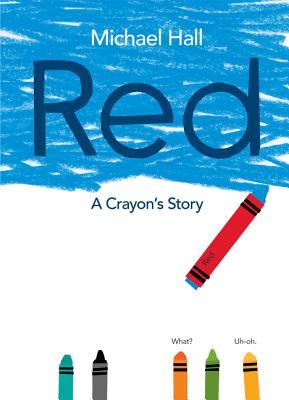 "Red has a bright red label, but he is, in fact, blue. His teacher tries to help him be red (let's draw strawberries!), his mother tries to help him be red by sending him out on a playdate with a yellow classmate (go draw a nice orange!), and the scissors try to help him be red by snipping his label so that he has room to breathe. But Red is miserable. He just can't be red, no matter how hard he tries! Finally, a brand-new friend offers a brand-new perspective, and Red discovers what readers have known all along. He's blue! This funny, heartwarming, colourful picture book about finding the courage to be true to your inner self can be read on multiple levels, and it offers something for everyone!" Goodreads
I have just ordered this for our picture book collection. It's going to be a great title to use to to inspire thought and provoke conversations about identity and diversity. This seems such a simple message and one kids will get a lot more quickly than most adults and politicians. This should be compulsory reading for the adults in this world who just don't understand that difference isn't a lifestyle choice.
"It's about being true to your inner self." (Author)
And for curious children wondering how crayons are made:
Bibliographic details:
Red : a crayon's story / Written and illustrated  by Michael Hall.
Published by Greenwillow Books, 2015.
40 pages.
ISBN:9780062252074