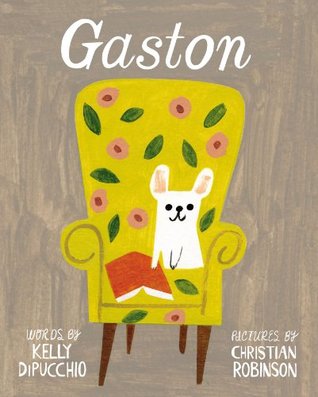 'A bulldog and a poodle learn that family is about love, not appearances in this adorable doggy tale from New York Times bestselling author Kelly DiPucchio and illustrator Christian Robinson.
This is the story of four puppies: Fi-Fi, Foo-Foo, Ooh-La-La, and Gaston. Gaston works the hardest at his lessons on how to be a proper pooch. He sips—never slobbers! He yips—never yaps! And he walks with grace—never races! Gaston fits right in with his poodle sisters.
But a chance encounter with a bulldog family in the park—Rocky, Ricky, Bruno, and Antoinette—reveals there's been a mix-up, and so Gaston and Antoinette switch places. The new families look right…but they don't feel right. Can these puppies follow their noses—and their hearts—to find where they belong?' Publisher
I love this book! Gaston is a little pooch who will steal your heart (but so will all his siblings in this story.) This is a great book for talking about fitting in, identity and belonging and possibly will inspire some questions around nature versus nurture. Having reread this at least 5 times in the last two days, I can promise it is still fresh and very, very funny (it seems to get better each time I read it). It is going to be an awesome readaloud and I can't wait to share it with my students at the start of the school year. I can just about hear how it is going to sound aloud as I read it.
The illustrations in this are fantastic – printed on wonderful paper with a slightly retro-modern feel. Gaston and his sisters and are painted using negative relief where they are composed of white space with marking painted on. It is a very effective technique. All of the colours, the illustrator has used, feel warm and happy.
Kids, parents and teachers are going to think this is very cute. Definitely a book with the 'aww ' factor!
Image source: Author website
Bibliographic details:
Gaston / Words by Kelly DiPucchio, pictures by Christian Robinson
Published by Atheneum Books for Young Readers, 2014.
40 pages.
ISBN:9781442451025
Available to purchase locally and to borrow from Auckland Libraries