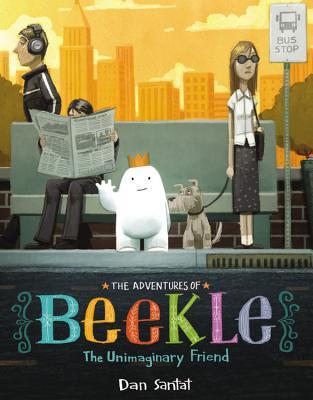 "This magical story begins on an island far away where an imaginary friend is born. He patiently waits his turn to be chosen by a real child, but when he is overlooked time and again, he sets off on an incredible journey to the bustling city, where he finally meets his perfect match and-at long last-is given his special name: Beekle". Publisher Hachette
This such a sweet story about friendship and the twist on the friendship theme in this book is that the imaginary friend is waiting to be imagined and loved by a real child.
Every night he stood under the stars, hoping for his turn to be picked by a child and given a special name.

He waited for many nights.

But his turn never came.
When Beekle sails away to the real world and ventures into the city, it is a rather dark, dingy and unhappy place, very much like the scenes in Mike Curatos Little Elliot, big city. The adults seem preoccupied and disinterested in everything around them and the only creature that notices Beekle, is a small dog and the reader. When Beekle catches sight of one of his imaginary friends from the island, then we see a burst of colour on the right hand side of a dark page. The subsequent pages are filled with colour and activity when Beekle finds a playground. Just when we feel that Beekle is at his saddest and loneliest,  he finally meets his real friend. The reader can't help but feel very happy for Beekle, especially when we finally see him smile..
I think this book would rather heartening to hear if you were a small person, perhaps at school without a special friend yet. And these lines might convince a child that becoming best friends with someone isn't always instant or 'love at first sight'.
At first they weren't sure what to do.

Neither of them had made a friend before.

But…

….after a little while

the realised they were perfect together.
Bibliographic details:
The adventures of Beekle the unimaginary friend / Dan Santat
Published by Little, Brown Books for Young Readers, 2014
40 pages
ISBN:9780316199988
NZ RRP $34.99
Available from independent book stores, library suppliers and to borrow from Auckland Libraries.
Recommended for older readers….
The imaginary / Written by A.F. Harrold and Illustrated by Emily Gravett.
Published by Bloomsbury, 2014.
212 pages
ISBN:9781408852460