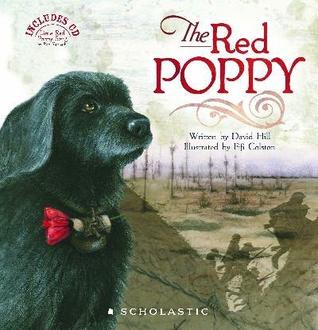 "Jim, a soldier on the Western Front in World War 1, is wounded while charging through No Man's Land. He stumbles into a shell crater for shelter and finds a badly wounded German soldier. The two men try to help each other, but it's Nipper, the messenger dog, whose gallantry gives them a chance for survival."
I'm busy putting together WW100 and ANZAC Day resources for a school wide project we are working on. Picture books and sophisticated picture books play an important  part in the curation of resources for a school wide project for all our students from Y1 up to Y13. There is nothing like a picture book to show readers big issues and explain them in an age appropriate but still thought provoking way.
My first pick is the Red Poppy by David Hill. We will also be using the Te Reo edition Te popi whero.  I love the moody and emotive illustrations which use a very sombre and minimal palette of grey and brown. The poppies and the blood stand out as the only red on the battlefield and colour on the pages.
The red poppy was the Storylines Notable Picture Book for 2013.
Other resources and links:
Teachers notes – Scholastic
NZ Herald review – interview with the author and background information on the writing and production process.
Bibliographic details:
The red poppy / Written by David Hill and illustrated by Fifi Coulston, with contributions by Rob Kennedy.
Published by Scholastic, 2012.
38 pages+ CD contains song: Little red poppy / by Rob Kennedy.
ISBN:9781869439989
RRP NZ$ 33.00