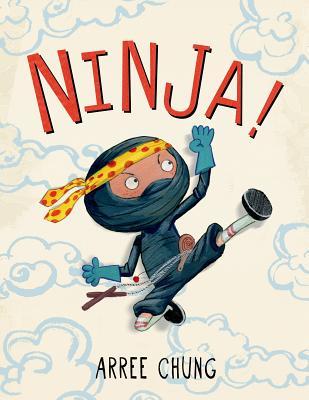 A ninja must be strong, courageous, and silent! He creeps through the house on a secret mission. There may be obstacles! But have no fear—a true ninja can overcome all challenges.
Ninjas are hugely popular with kids, both girls and boys. I believe that if we want to grab and keep the attention of kids, especially boys, and convince them that reading is fun, then we have to start showering them with books when they are small and we have to offer books for them to choose themselves that feature the kinds of characters and stories they want to read or hear. Some of my youngest clients love anything ninja from Lego Ninjago first readers to Gareth P. Jones fab series Ninja Meerkats.
This is both cute and clever. I can remember my own children delighting when they thought they were being stealthy and I couldn't see what they were up too. It's like that for readers with this book. The main character, Maxwell, is acting out his ninja fantasy trying to steal the cookies when the reader can see that his sister is well aware of exactly what is going on.
I love the format of the story which is almost comic book or storyboard in some pages.  All we can see of Maxwell,  is his body language and his eyes – and these really tell us what Maxwell is thinking and feeling.
Image source: Author website
I can imagine this as a movie – in the meantime make do with this cute short film!
I hadn't bought this book for our collection but it was recently announced as a NPR Book of the year for 2014 and featured on a multitude of 'best of lists' from review sites and reviewers I admire. I decided that was reason enough to borrow a copy from Auckland Libraries and assess whether to add this to our PB collection.
Will I buy this? Yes, yes, yes! I am ninja! (Ninja Librarian!)
Bibliographic details
Ninja! / Written and Illustrated by Arree Chung
Published by Holt Books for Young Readers, 2014
40 pages
ISBN:9780805099119
NZ RRP: $33.50
Availability Purchase from Wheelers, good independent bookstores or borrow from Auckland Libraries